There Is No Better Way to Command Attention than a Unique Video Wall
Create one-of-a kind video walls with unlimited layouts and steal the show.
Artistic & Mosaic-style Video Walls that are Easy to Set up, Easy to Manage and Don't Break the Bank
Userful's unique approach to video walls makes it easy and affordable to deploy a one of a kind eye-catching video wall of any shape and any size using just about any content. All you need is a smart display and Userful Cloud.
Cut through the clutter, attract attention, deliver a message, engage with your audience, transform the look and feel of a space. A unique video wall from Userful stands out from the crowd.
For customers without a compatible Smart Display, Userful On-Premise supports the same unique artistic video walls using an on site server. Userful supports any display with an HDMI connection ensuring maximum flexibility when designing an artistic video wall. Mix and match display types and sizes as needed, rotate individual displays or the entire video wall 360°. All display placement and rotation can be done with a drag and drop method or for more precise placement, key in numeric values.
Userful runs from a standard PC and supports display of just about any content including video of up to 8k. Userful offers a cloud management option that allows users to centrally upload content and to schedule content changes.
Learn How Easy It Is to Set up an Artistic Video Wall with Userful
Questions?
Book a time with a Userful expert now.
Want more?
Click here to watch 20 min. on demand webinar on artistic video walls
How can we help?
Click here to set up a personalized 1-on-1 demo.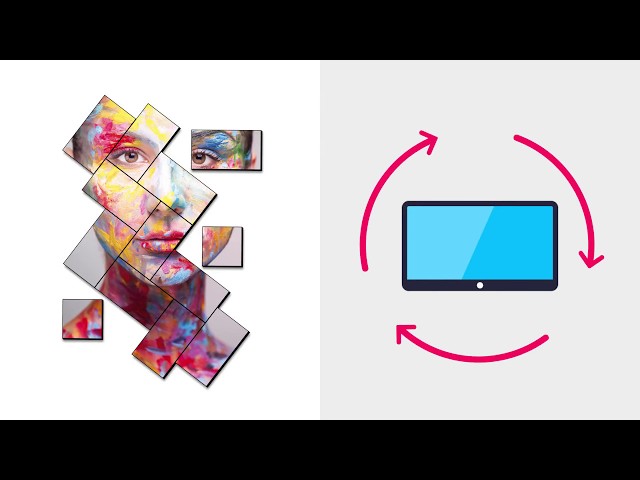 The system is lightning fast to setup. What would have taken 1-2 days with our previous solutions took about 1 hour.
I am really looking forward to doing another one (video wall) and another one and another one.
Userful platform definitely took our headaches away by its means of mapping content for the video mosaics.
Userful offers straightforward, pay-for-what-you-need pricing. Don't overpay for your video wall solution.
Talk to a Userful Video Wall Specialist. Book an instant meeting with one of Userful's Video Wall specialists.
Download our pre recorded webinar introduction to Userful for artistic video walls which includes a feature by feature tour and a demo of the Userful Control Center.